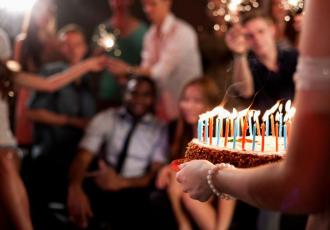 For the first eleven years of his life, Tyson Smith did everything a normal kid would do. He went to school, played with friends and had birthday parties. His normal life changed when complications arose after a bout of H1N1 influenza. His parents took him to the doctor in their small home town of Sharon Springs, Kansas. Tyson couldn't eat; he was weak; he was losing weight.
"By the time we took him to the children's hospital in Denver, I had to carry him. He couldn't walk," remembers Tyson's father Justin Smith. "In less than a year, he lost half his body weight. Forty-two pounds."
Over the next several years, there were numerous surgeries and hospital stays for Tyson.
Tyson Smith and his parents Wendy and Justin enjoy birthday cake together for the first time in six years. His 17th birthday party was held at the Ronald McDonald House Sept. 11, 2013.
"Every holiday, every birthday we spent in the hospital," Smith says.
His mother quit her job to care for him. His father would make the three hour drive from Denver to Sharon Springs to continue working to support the family. Neighbors and co-workers pitched in. But Tyson's health was still failing. He could no longer eat and received all his nutrition through a feeding tube.
"I lived for months in the hospital, ICU stays," Tyson says. "Many times, I had to say my goodbyes to my family. I heard doctors say I wasn't going to make it; that they could make me comfortable, but that there wasn't really anything they could do."
His condition worsened to the point that physicians in Denver said Tyson might be a candidate for an intestinal transplant.
"They first suggested contacting Pittsburgh, which we did," Smith says. "But we ran into someone in Denver who had been through the same thing. She said, 'Go to Omaha. That's what we did. And we're from Pittsburgh.'"
It's a decision the Smiths are very glad they made.
"The care has been awesome," Tyson's mom Wendy Smith says. "He got his second chance. He's going to make it."
Tyson's transplant team has every reason to be optimistic. One month and three days after having his intestine, liver and pancreas transplanted, Tyson was out of the hospital.
"He's made an excellent recovery," says David F. Mercer, MD, PhD, Tyson's transplant surgeon. "He should be able to do what he wants, what activities he wants to; travel, be whatever he wants when he grows up."
Tyson had just gotten used to eating again after so many years on feeding tubes. The idea of a birthday party with actual cake was a lot for him to process.
"It's going to be very emotional. I haven't done anything like that in over five years. It's a huge milestone in my life. It's my 17th birthday, but it's like the first day of my life. It represents a new beginning."