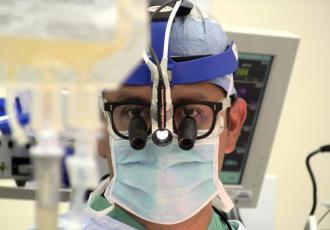 Facing No Other Option, Linda Elonich Agrees to Life-Changing Surgery
For seven years, Linda Elonich lived with the excruciating pain of pancreatitis attacks. The Omaha woman says it started suddenly in her sleep – pain so severe she couldn't speak. She thought she was dying. She underwent several surgeries over the next several years, but continued attacks meant she could no longer work, travel or spend much time away from home. Her doctors brought up the idea of removing her pancreas and performing an islet cell transplant. They were cautious, but Elonich was ready.
"I said, 'Let's do it.' I hurt so bad at that point, I had no fear of it. It was a chance for relief," she recalls.
Her husband and her doctors urged caution, but a serious and extremely painful attack led them all to believe the time was right.
"The islet cell transplant is the second part of a procedure for patients who have their pancreas taken out," explains Brian Boerner, MD, endocrinologist. "Those are patients who have no other option for treatment. As part of that, we can remove the islets, the insulin-producing cells from the pancreas and put them back into the person's liver where they function and prevent serious diabetes."
After a successful transplant, the liver essentially performs the function of the pancreas.
Though not the first islet cell transplant performed here, Elonich's operation was the first done as part of the medical center's Pancreas and Biliary Disorders Clinic.
"It went off without a hitch and went according to plan," says Luciano Vargas, MD, the transplant surgeon who performed Elonich's procedure.
Transplant surgeon Luciano Vargas, MD, looks on as Linda Elonich's islet cells are infused into her liver.
The operation took most of the day. In the first part of the surgery, Dr. Vargas removed the pancreas and sent it to our Biologics Production Facility (BPF). Scientists there spent four to six hours isolating the islet cells and prepare them for re-infusion into the patient's liver.
"The expertise at the lab is phenomenal," Dr. Vargas says. "You can tell by how Linda is doing."
When the cells are ready to be infused into the liver, BPF staff brings the bags of cells to the OR where the surgical team is waiting.
Elonich says she could tell a difference as soon as she woke up from surgery. After a recent check up with both Drs. Boerner and Vargas, Elonich says she has a new outlook on life.
"It's nice to wake up in the morning. Every day is a beautiful day," she says. She recently traveled to Arkansas to visit her 93-year-old grandmother; something that would have been impossible before the surgery.
Elonich has praise not only for the expertise at the medical center, but for the caring personalities of everyone she's met from the clinics to the hospital.
"These people for me are life savers. Most people going to the doctor, they dread it. It's not like that for me. They're like family to me now; we've been through something so personal and life-changing together."
Watch more of Linda's story.