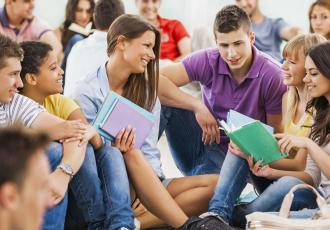 International students at a UNMC orientation event in 2012.
International student enrollment at the University of Nebraska has reached another record high this fall, continuing NU's momentum in attracting talent from around the world.
International student enrollment this fall is 3,638, a 4.7 percent increase over last year, according to the university. The students represent more than 130 different countries, with the most common countries of origin being China, India and South Korea. An increasing number of students also are coming to NU from Brazil and Oman. The university has established a goal to double international enrollment to about 6,000 by 2020.
At UNMC, there are 266 international students representing 27 countries. These numbers do not include researchers, house officers, observers and other members of the UNMC community, which bring the total number of international participants at UNMC to nearly 700.
"UNMC differs from the other NU campuses in recruiting efforts, because we have a largely graduate population whose numbers are constricted by lab space," said Sara Pirtle of the international health and medical education department. "Some of the College of Public Health programs, however, do not have these limitations, and their enrollment numbers have been booming, thanks to the enthusiastic recruitment efforts of (former dean) Ayman El Mohandes and COPH faculty."
Owing to the efforts of its Global Health Student and Faculty Advisory Committee, UNMC has made great strides in offering services and activities to orient new international students to life in Omaha and the UNMC community, Pirtle said.
"Our international population contributes a richness and vibrancy to the fabric of our daily lives at UNMC and in society," Pirtle said. "They make a priceless and profound contribution to the work place and community."
NU President James B. Milliken and Gov. Dave Heineman hosted welcome events for new international students at the four campuses to celebrate Nebraska's continued progress in attracting global talent.
"I'm very pleased that a growing number of talented students from around the world are choosing to study at the University of Nebraska," Milliken said. "International students add a great deal of diversity and richness to our campuses and communities. Their presence is a tremendous benefit to our U.S.-born students, who are more prepared to succeed in today's global economy after living and working with students of different backgrounds."